They asked him, 'Teacher, when will this be, and what will be the sign that this is about to take place?' And he said, 'Beware that you are not led astray; for many will come in my name and say, "I am he!" and, "The time is near!" Do not go after them...Look at the fig tree and all the trees; as soon as they sprout leaves you can see for yourselves and know that summer is already near. So also, when you see these things taking place, you know that the kingdom of God is near.'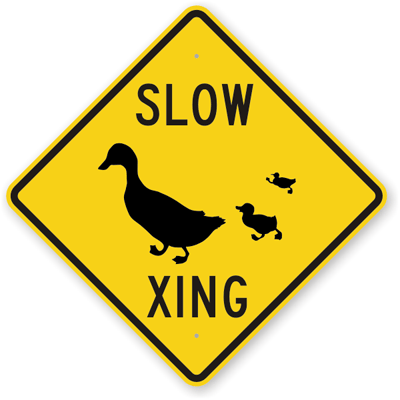 There is a street in our neighborhood that has signs, similar to the one above, posted where the street dissects a small lake. I've driven past and mused at these signs many times. Well, yesterday while taking that route to the Post Office, I was annoyed by a car stopped in the middle of the road, before realizing that a big fat duck waddled across the street between these signs, within the painted lines of the crosswalk. This has me wondering how many "signs" of the times are all around us that we muse upon as quaint, take for granted, and otherwise ignore.
Prophesies, parables, and predictions like the one above by Jesus, and found in numerous sacred texts, are in many ways actually timeless - meaning they can be True in any age and context. However, as we look around our communities, our nation, and the world today there are signs that we live in times of disruption intended to deceive that have us off balance and anxious. These signs, as well as human history, are telling us something - disruptive deception leads to destruction.
The signs of our times are not quaint musings to be ignored. Just as sure as the fig tree yields its fruit and fat ducks cross the road, the chaos being sown in our world today may very well be a sign that the One Eternal Presence of Truth cannot be deceived by disruption. However, when signs are ignored, there are consequences.
To use another metaphor, perhaps we have used the "snooze" on the alarm enough and it's time to wake up.